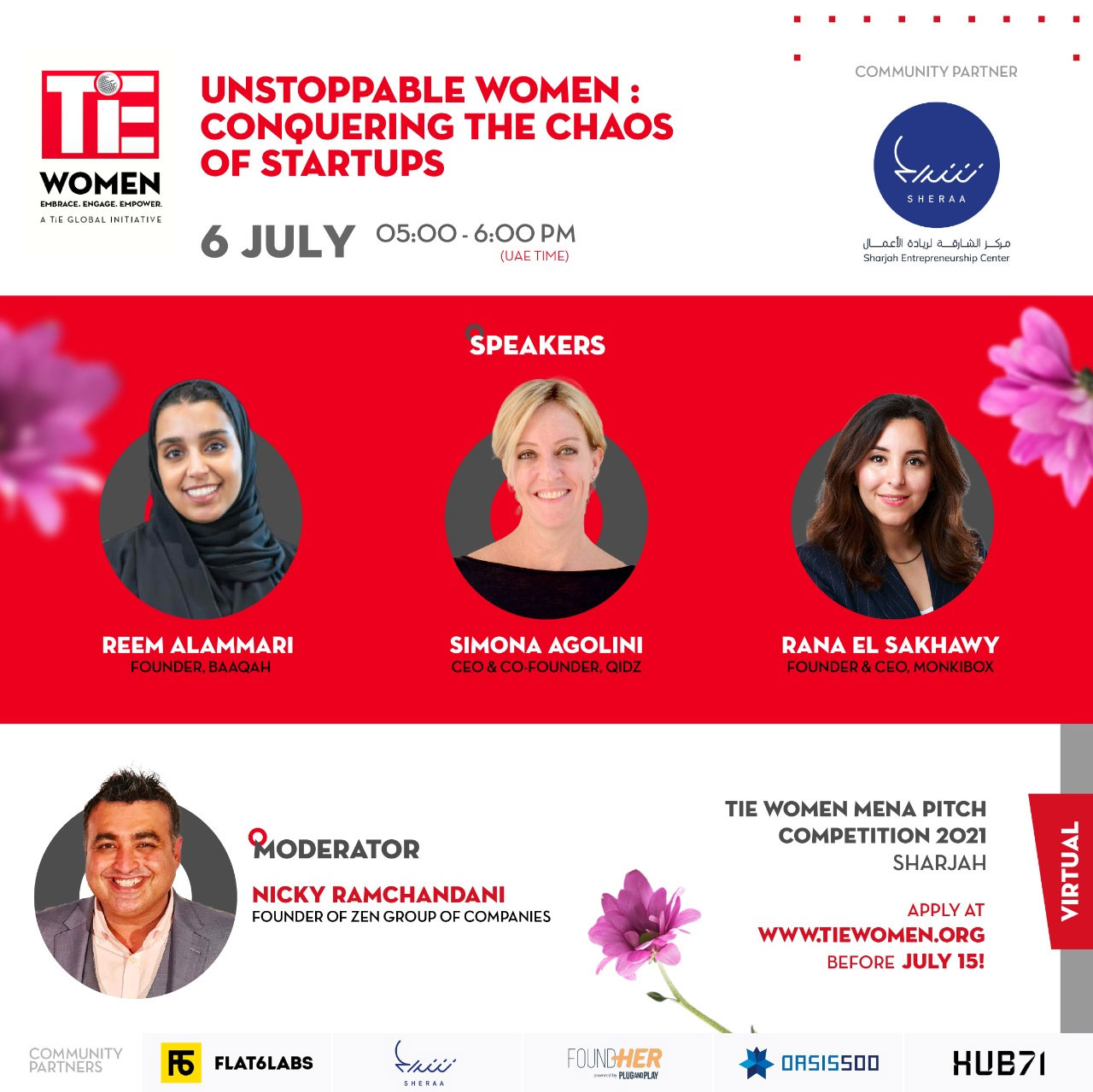 Unstoppable Women : Conquering the Chaos of Startups TiE Women x Sheraa
In all chaos there is cosmos, in every entrepreneurial journey there are ups and downs leading to growth. Three unstoppable women are here with us to share the challenges they have faced in their industries which pushed forward the mountable success of their startups.
Our first panelist Simona Agolini, the Co-Founder & CEO of QiDZ was facing the problem of finding fun, good value deals, and relevant things to do with her family. She and 4 other Co-Founders created QiDZ.Qidz was developed to solve a genuine problem that parents were facing – and to help make parents' lives easier by inspiring and providing them with relevant information that is up-to-date and real-time.
Our second panelist AlReem AlAmmari, the young founder of Baaqah, an e-commerce platform launched in early 2020, specializing in the retail of floral products. In terms of grounded challenges, AlAmmari noted that setting up the e-commerce platform itself was fraught with difficulties, especially as a person with no background in coding and website development, though this did not stop her from taking the time to learn what's required and to forge on.
Our third panelist Rana El Sakhawy, Rana is part of the 2021 Cartier Women's Initiative Fellowship class. Her business is a great example of why inclusion of women is so important in field of entrepreneurship. As a mom, Rana was solving for "How to give this tiny human the best development in their early life? " Her dedication to this ambition led her to launching Monki Box, which has posted solid growth since inception.
Breaking through the startup ecosystem with their unbeatable spirits, these women have achieved milestones in their own startup journey.