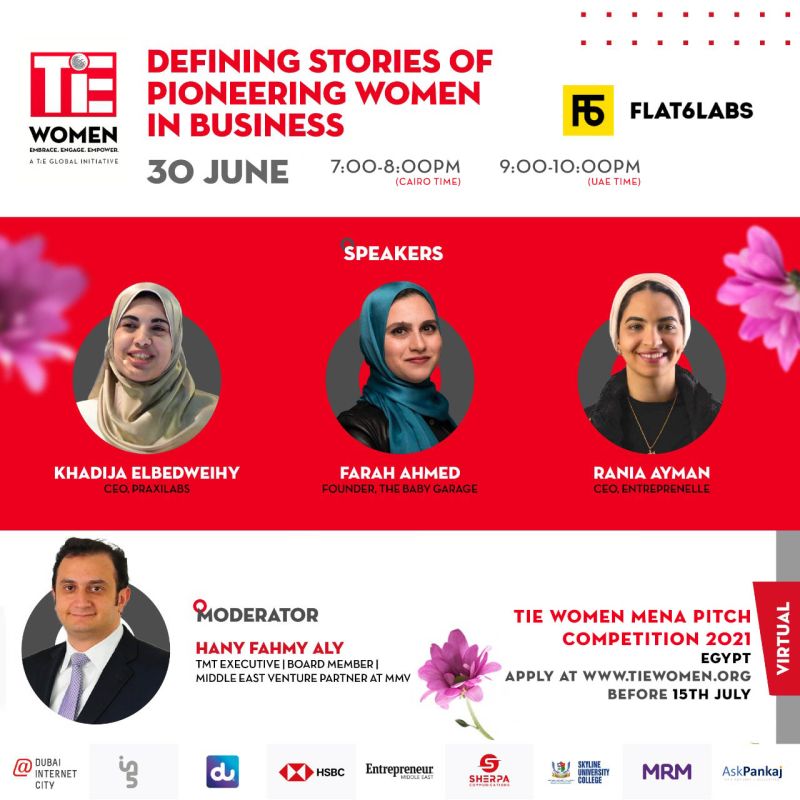 TiE Women x Flat6Labs : Defining Stories of Pioneering Women in Business
Moderator : Hany Fahmy Aly – TMT Executive | Board Member | Middle East Venture Partner at MMV
Speakers :
1.Khadija Elbedweihy – CEO, Praxilabs
2.Farah Ahmed – Founder, The Baby Garage
3.Rania Ayman – CEO, Entreprenelle
Pioneers in their industry, we have three women inspiring their fellow women entrepreneurs in Egypt and the region to chart their own paths.
Khadija Elbedweihy, Winner of TiE Women MENA Pitch Competition 2020 joins us to talk about her story as a founder of PraxiLabs, an online learning platform providing interactive science labs for students to be accessible anytime and anywhere, led by her passion to drive her team forward. She is joined by Farah Ahmed, Founder of The Baby Garage an online website specialized in trading children's products and services with a goal to help mothers on their journey to motherhood.
Our third panelist is a fearless risk taker by nature, she is the Founder & Managing Director of Entreprenelle, Rania Ayman, who leads Entreprenelle a mission driven enterprise that strives to bridge the gender gap economically by educating, training, and linking women to all the resources possible.
These are the women entrepreneurs of the future, sharing their stories in an online conversation via zoom this Wednesday.