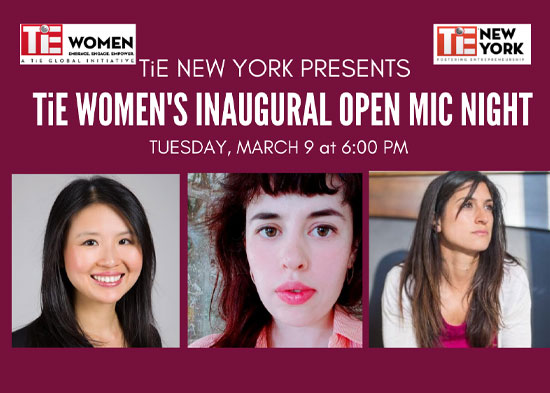 TiE NY & TiE Women Present Open Mic Night
UN Women announces the theme for International Women's Day, taking on March 8, 2021 as, "Women in leadership: Achieving an equal future in a COVID-19 world." The theme celebrates the tremendous efforts by women and girls around the world in shaping a more equal future and recovery from the COVID-19 pandemic.
In support of this announcement, TiE Women & TiE New York cordially invite you to take part in our TiE New York's monthly Startup OMN event on Tuesday, March 9 starting at 6:00 PM, for an exciting night of virtual networking and pitching! Our featured guest will be Jocelyn Lee, Executive Director of Hearst Lab. We will also be showcasing two chapter winners of the 2020 TiE Women Global Pitch Competition – Natalia Mykhaylova (New York) of Weavair and Dr. Angela Fusaro (Atlanta) of Physician 360. They will share their journey stories and also talk about their experience on pitching on a global platform. We specially invite our active Angel investors to join us for this specially curated evening.
HearstLab provides cash investment and services to early-stage, women-led startups. Our mission is to close the gap in VC funding for women by helping founders build healthy, sustainable and highly scalable businesses. Learn more at hearstlab.com.
To pitch at this event, you don't have to be a TiE member, you just need to identify as a current or aspiring female founder with a passion to share your idea that may change our world. You will be given a safe entrepreneurial friendly virtual space to deliver an elevator pitch for 2 minutes in the presence of a group of mentors, angel investors, venture capitalists, startup-focused service providers, and a very supportive community of successful entrepreneurs.
Please note that space for pitching is limited, and you must register via the link below to receive the Zoom link. You will receive the link on the day of the event. If you do not receive the link, please check your spam and reach out to Maggie Trabucco at [email protected] with any questions.
Thanks!