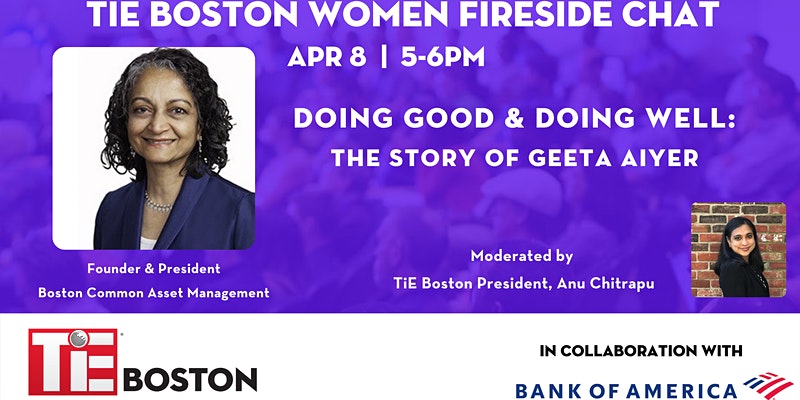 TiE Boston Fireside Chat with Geeta Aiyer
About this Event
Geeta Aiyer is President & Founder of Boston Common Asset Management, LLC, a global ESG impact equity manager, and leader in shareholder engagement. The firm is a "Best for the World" honoree within the global B Corp community and is among the top 100 women-led businesses in Massachusetts. A 2020 inductee into the Academy of Women Achievers by YW Boston, Geeta has been honored by Investment News (2016), as an Innovator whose new ideas and tools have propelled the industry forward. She was recently named to the 100 Women in Impact – Real Leaders list.
Geeta serves on the Board and Investment Committee of NRDC. She is also on the boards of the Interfaith Center for Corporate Responsibility (ICCR), and the Better Future Project in Massachusetts. She is a Charter member of TiE Boston, and co-founder and board chair of DAWN Worldwide, an NGO addressing gender-based violence. Geeta has previously served on the boards of the Sierra Club Foundation, and United Nations sponsored Principles for Responsible Investing (UN PRI).
Before Boston Common, Geeta was President of Walden Asset Management, and has worked at US Trust Company (Boston), Cambridge Associates, and the Indian Administrative Service. She received her MBA from Harvard Business School; BA (Hons) and MA degrees from the University of Delhi, India. She is a Chartered Financial Analyst.
We are proud to host this event in collaboration with Payal Loungani, VP and Relationship Manager, Bank of America. Payal recently shared "2020 Hindsight: Five Lessions as We Kick-Off 2021" with TiE Boston to strengthen and support the founders in our community.