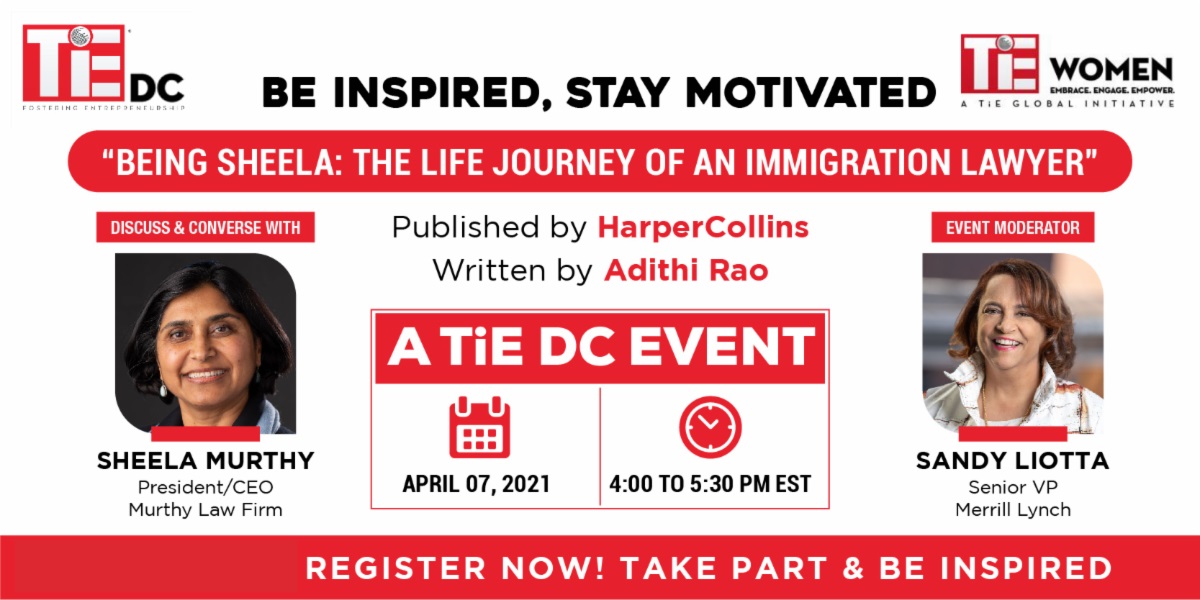 Being Sheela: The Life Journey of an Immigration Lawyer
TiE DC Presents Celebrating "Being Sheela: The Life Journey of an Immigration Attorney" – A Book Discussion and Conversation with Sheela Murthy 
At this lively & engaging virtual book-discussion event, you will get ideas on how to better run your business and learn from your mistakes to become a successful entrepreneur! 
About Sheela Murthy:  Sheela is an entrepreneur, philanthropist, public-speaker, and an internationally recognized U.S. immigration lawyer. She is the President/CEO of the Murthy Law Firm, the world's pre-eminent law firm dealing with U.S. immigration matters and is a Harvard Law alum. Ms. Murthy and her husband, Vasant Nayak co-founded the MurthyNAYAK Foundation, a socially transformative non-profit. 
The critically acclaimed biography "Being Sheela: The Life Journey of an Immigration Attorney" has recently been released by Harper Collins.
What is "Being Sheela" about? It explores the life of a woman who has made it her purpose to strive for a better world. With insightful detours into her rather eventful growing-up years, it follows her journey from India to the United States, through law school at Harvard to the inception of what went on to become one of the most successful immigration law firms in the world – the Murthy Law Firm. It highlights how one person's vision and mission, working with a dedicated team, can transform lives. Lives in the millions of individuals and families who rely on the information, knowledge and wisdom shared through the website, murthy.com.
"Being Sheela" is about the human side of a successful professional, an immigrant and woman of color. The conversation with Sheela will provide inspiration and motivation, not just for immigrants, but for all, to seek and find hope and opportunities to fulfill their dreams and to live life to its fullest potential.
Moderated by:  Sandy Liotta, Sr. VP. Merrill Lynch